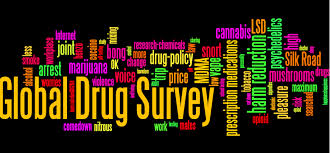 The Global Drugs Survey is where the world goes to find out real people's attitudes to and experience of drugs
Follow @globaldrugsurvy @drugsmeter
www.globaldrugsurvey.com
www.drugsmeter.com
About:
Global Drug Survey seeks to become the largest most credible source of current drug use data trends in the world
Accepting that the hidden masses of those who use substances are not the focus of government research or public health interventions, we seek to inform the wider drug using populations about their use of substances in a way that is meaningful, relevant and useful.
Our goals
We strongly support harm reduction and accept that pleasure drives the majority of drug use, which for most people most of the time is not a source of distress or harm in their lives.
We acknowledge that drugs can be harmful but that the risk of harm can be significantly mitigated by the adoption of common sense risk reduction strategies.
We seek to limit the harm drugs may cause individuals and their communities by being honest, open and transparent about drug use and sharing our findings with the public without government or funder interference.
We are independent
As an independent research organisation we see our works and data reports as complementing other existing sources of drug use data across the world. We hope that by triangulating data sources public health organisations will be better equipped to craft optimal public health strategies to improve the health and wellbeing of people who use drugs.
We are the only organisation offering this unique experience, and further believes that by offering this unfettered space we can move the understanding of drugs and the associated societal drug trends forward. This in turn will assist all sections of society – professionals and the public alike – to benefit from the published results whilst allowing professional groups the ability to provide support, information, education and health services based upon geographical evidence data.
The Global Drug Survey story begins 15 years ago with a humble survey in a clubbers' magazine
The start of The Annual Mixmag Drug Survey
It was 15 years ago in 1999 when I first approached Mixmag to see if they fancied helping me do a bit of drug research. At the time I was a trainee psychiatrist and junior researcher in London who'd grown up around warehouse parties, Good Times and Soul to Soul. I think the idea came to me about after having a drink with my school mate, Jules (aka Judge Jules) and the then features editor Tom Whitwell.
Over a beer we chatted about how we just knew so little about what people were doing, how they were doing it and what if any problems people were having. And so began the' Annual Mixmag Drug Survey'. In June 1999 we had a 2 page questionnaire in the magazines and asked people to fill it in and post in back (and pay for their own postage!). Almost 1,200 people — god bless 'em — did.
The results of that first survey came out in the February 2000 issue 'Britain's Biggest ever Drug Survey' — 16 pages of cracking visuals, findings and good quality harm reduction advice.
Looking back
While some things have not changed much — like MDMA being everyone's favorite drug and cocaine costing £50/gram (although there was actually cocaine in your cocaine) — ketamine was pretty rare and people were sometimes paying £25 a pill. It also seems people were more careful about how they used E with 40% saying they never drank alcohol (now 85% says they always do) when they dropped a pill. Mixing cocaine with E was however far more common that it is nowadays – maybe because the cocaine is a bit shit or because people now know that the cocaine brings them down and can increase their risk from over-heating and heart problems. Amyl nitrate was the 5th most commonly used drug and LSD was close behind a number 6. And 4-MTA (the late 1990s version of PMA) was being sold as flat liners and causing headline grabbing press.
Mixmag led the way for 6 years
The Mixmag survey continued for 6 years, every year turning out stories on drugs that, when combined with sensible honest practical reporting by Mixmag, led it to become one the most reviewed sources of drug use data in the UK and throughout the world. We spotted drug trends and people responses to a changing drug landscape first. We reported that the classification of cannabis from Class B to C and then back to B made no difference to people, we spotted the rise in the use of Viagra outside clinical settings, the increase in popularity of hallucinogens like 2-CB and ketamine and got people thinking about ecstasy pill testing and the risks of GHB before anyone had given this colourless, but potentially lethal, solvent any thought. The findings were picked up by mainstream news programs, written up into scientific papers, and I got to go to nice conferences — it was great.
Mixmag Drug Survey returns in digital form
In 2009 after a break of 4 years and after returning from 8 years in Australia I phoned up Mixmag and asked then how they felt about running the survey again. Duncan Dick and I met up, chatted and off we went, this time fully on-line and with a whole new drug world and the internet about to explode at our feet.
We stayed true to the origins of the survey that started 10 years earlier — asking the questions we thought were important to the readers of Mixmag and clubbers everywhere and remaining free from government or funding body involvement.
The 2010 issue on mephedrone broke all records with 3,000 participants and took the lid off the mephedrone story and was the first to spot the rise of the emerging novel psychoactive drug market.
A year later in 2011, 4,500 people took part and we saw the dip in use of mephedrone after the ban and appearance of a darker side to a drug that everyone thought was just a nice heap buzz. Every year the first place we fed back the finding of our work – was to you the readers and supporters of Mixmag.
Global Drug Survey is set up
In 2011 and 2012 I set up the Global Drug Survey and collaborations with the Guardian and Fairfax media (Australia) took the survey to another level, moving beyond clubbers to general population.
As ever, we listened to feedback and focused on the things our audience wanted us to, like pleasure and sex and money. People were so generous with their time and 37,000 people took part across the 2012 and 2013 surveys.
We researched the Silk Road, of sexual assault on drugs and the story of ketamine and the bladder highlighting that drinking alcohol on K massively increases your risk of bladder symptoms, which 1 in 4 users reported bladder symptoms such a pain when peeing or frequency (needing to pee loads).
We kept reminding other media and the government that people who use drugs are mostly smart people who use drugs as one of a number of lifestyle activities (some even do yoga and are vegetarians) and that they are as keen to keep themselves and their mates as safe as everyone is. They are not daft. They don't think 'legal highs' are safe because they are legal. GDS also stated the obvious fact that drug use does not define an individual and that any conversation about harm needs to start with a conversation about pleasure.
Global Drug Survey is growing and growing up at the same time
We are exploring new ways of getting information out to people with our Drugs Meter Minutes on the Global Drug Survey YouTube channel. Our MDMA Drugs Meter Minute has been seen almost 80,000 times and the animated one on commons sense tips to reduce the risk or harms when you try and new pill or powder for the first time is essential viewing.
Our apps
Global Drug Survey developed Drinks Meter and Drugs Meter the free, anonymous, and confidential online and smartphone apps that allow you to compare you use of drugs and alcohol to tens of thousands of other people from around the world.
The new Drinks Meter has just launched and is the 'coolest' best drinking app in the world (on apps stores and direct from www.drinksmeter.com) all the other Drug Meter apps are being redesigned ready for the spring – but if you can't wait they're available at www.drugsmeter.com.
The 2014 survey become truly global
The 2014 survey stepped out from the constraints of the English language and was translated into Spanish, Portuguese, French, Flemish, German, Hungarian and Danish with media partners in the USA (Huffington Post) Australia and New Zealand (Fairfax Media) and Europe including Zeit-on-Line in Germany, Publico in Spain, and Liberation in France as well as partners in Brazil and Mexico.
The 2014 survey received just under 80,000 responses. Other than drug prevalence, cost and patterns of use including new drug trends, we also asked people to describe the perfect cannabis high so we can share that information with weed growers so they might stop making everyone smoke skunk with very high THC and no CBD, which we know from other Global Drug Survey research is not want most people necessarily would want to smoke given the choice.
We also undertook the biggest ever survey of harm reduction strategies among drug users finding out what people do and what they might be willing to do in the real work to maximise the fun they have while minimising the risks of harm.
The near future
In April 2014 we will release the first of several incarnations of the Global Drug Survey Highway Code based on these findings.
This year we will also be producing reports on nitrous oxide and prescription drug use, new psychoactive drugs, exploring what happens around the world when you get caught with drugs and the whole murky, and increasingly controversial, area of workplace drug testing policy.
We'll be launching the 2015 survey in mid-November at www.globaldrugsurvey.com/GDS2015. Be prepared. Our target is 120,000 respondents.
—
Drugs Meter Minutes – Videos
A series of harm reduction and drug education videos by Global Drug Survey:
http://www.globaldrugsurvey.com/facts-figures/drugs-meter-minutes/