Video at Youtube –
Support – don't punish. Global Day of Action:
https://www.youtube.com/watch?feature=player_detailpage&v=eHlpnnDL_yo
Activists in more than 40 cities around the world, as London, Paris, Nairobi, Dar Es Salaam, Kathmandu Seville, Mexico City, Bangkok or Oslo, took to the streets in an historic day of action to raise awareness on the harms caused by the 'war on drugs' during the SUPPORT. DON'T PUNISH Day of Action, organised on 26 June to coincide with the United Nations' International Day against Drug Abuse and Illicit Trafficking.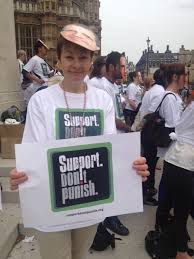 Direct to Green Party's Member of Parliament Caroline Lucas who explain how to sign e-petition:
http://www.youtube.com/watch?feature=player_detailpage&v=eHlpnnDL_yo&t=47
http://epetitions.direct.gov.uk/petitions/45969

Support Don't Punish – Campaign INDIA: