Den 15. Internationale Mindedag for Stofbrugere ( "International Remembrance Day" ) og
kombineret "Support! Don't Punish!" – foto kampagne er vel overstået.
( supportdontpunish.org )
Vi mødtes fredag den 21. juli kl. 19 – og vi havde som sædvanligt bestilt solskin, men vejrguderne kvitterede med gråvejr, men vi slap heldigvis for regnvejr, ved Mindestedet for Stofbrugere i byhaven på Halmtorvet ved nr. 40 – (Ud for Eskildsgade og skråt overfor Brugsen). https://www.google.com/…/Mindested%…/@55.6689204,12.5574937…
Forud for mindeceremonien havde BF's aktivister "plantet" 260 farverige blomster – der smukt symboliserede de stadigt alt for mange fatale overdoser i 2016.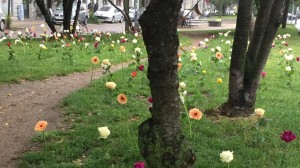 Programmet så sådan ud i år:
BF's formand Jørgen Kjær, bød velkommen og gjorde en kort status over det forgangne år.
Og bød velkommen til årets internationale taler, stifter og leder af Foreningen for Human Narkotikapolitikk i OsloArild Knutsen.
Arilds take kan høres her på Facebook:
Kuki Lise Møller Christensen læste som traditionen byder digte fra egen digtsamling "Det Første Skrig – Det Sidste Suk" – og gjorde det så rørende, at mange deltagere fik tårer i øjnene. Tak til Kuki 😉
Grundlægger og leder af Månestrålerne, tidligere formand for hjemløseorganisationen SAND – og nuværende kandidat til Glostrup kommunalbestyrelse for Enhedslisten Steen Rosenquist.
Her findes.  Video med Steen Rosenquists brandtale: https://www.facebook.com/steen.rosenquist?fref=ts
– om de urimelig forhold de udsatte grupper bliver budt i Danmark og med bud på hvad han vil kæmpe for som politiker – og det lover godt – så vi krydser fingre for at Steen bliver valgt den 21. november.
Medlem af Vesterbro lokaludvalg og kandidat til Borgerrepræsentationen for SF Thomas Warburg
Thomas' tale var bragende god – og vi har videofilmet et kort men vigtigt uddrag og ud fra hvad Thomas allerede har kæmpet for i årevis forhold til stofbrugere og øvrige udsatte grupper på Vesterbro, håber meget at Thomas bliver valgt til november.
Musikken leveredes i år af en sensationel overraskelse – sangerinden Sophia Ziegler Nohr der med sin fantastiske stemme sang egne sange ledsaget af en følsom guitar spillet af Anders Emil Jensen – de to klæder hinanden rigtigt godt og vi glæder os meget til at se og høre de to i større sammenhænge, for det har de virkeligt både talenterne og kvaliteten til – og de har også begge udseendet med sig – og det skader jo ikke ligefrem, at se brandgodt ud samtidigt med, at man optræder.
Og sidst men ikke mindst sang vi som sædvanligt en fællessang:  "Altid frejdig når du går" – men ikke som vi plejer – efter devisen; "Enhver fugl synger med sit næb" 
😉 – for Sophia sang for og i et lidt højt leje, der efterlod de fleste deltagere som betagede lyttere. 
– og så var der udskænkning af en lille én mens BF's aktivister ryddede pladsen og samlede alle blomsterne der var plantet på plænen, der blev lagt op af mindestenen sammen med buketter nogle af deltagerne havde medbragt, sammen med den kæmpe krans med bånd fra BrugerForeningen.
Samlet set blev det et utroligt smukt syn – som fotoet herunder kun knapt kan retfærdiggøre.